click on pictures to enlarge

Amateur (Ham) Radio has been my hobby for almost forty years.XYL Marilyn, (N6VAW) and I have traveled to remote places of the world where we set up a small portable Ham station and contact as many Hams in other parts of the of the world as possible during our stay. This type of operation is called a DXpedition! We have operated on the Islands of Papeete, Tahiti, Bora Bora ,the South Cooks(Rarotonga) and on the Island of Kadavu Fiji ;our lastest operation was Ireland in 2001.
My callsigns have been FO0CRI, ZK1UDS, 3D2UD and EI/W6UDS...Marilyn's calls have been: FO0BAG, ZK1VAW, 3D2VW and EI/N6VAW.
The equipment consists of a Kenwood TS50, a modified Icom switching power supply from a 751-A, 135 feet of wire fed with ladder line, tuner and keyer/paddle/mic. Most of the gear is carried in our two backpacks and is divided between Marilyn and me...this way we can be assured that nothing is lost in transit.
The antenna wire is installed in an inverted "V" configuration which is usually installed by a local tree climber; if we cannot talk anyone into climbing, I use a slingshot, fishing reel and 2oz weight to get the antenna up into the tree...I can usually get the apex up at least 40/50 feet which works quite well.
On the Island of
Kadavu, Fiji we were limited on the times of operation as the local generator was shut down from 2200 to 0700!
In Ireland we took a QRP 20 meter rig only (Small Wonder Labs), used batteries for the power supply and operated CW...the antenna was a wire.
Our modes of operation are both CW and SSB and we either operate split or if not too much activity, simplex.
If I can answer any questions about a mini DXpedition using a modest station, please feel free to contact me.
The main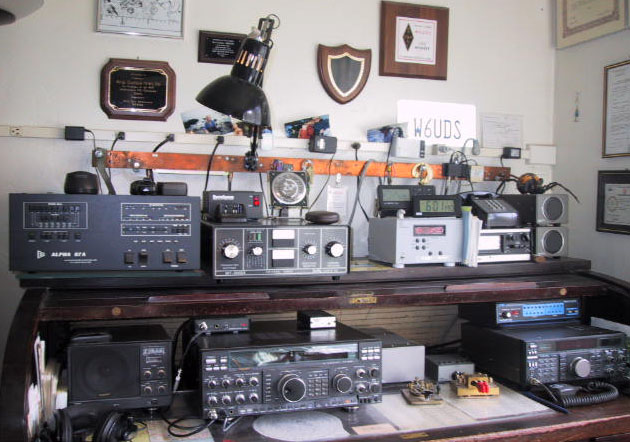 station consists of a Yaesu FT1000D transceiver, Alpha 87A
linear a rotating tubular tower at sixty feet with a two element forty meter beam and a Force 12 C3 for 10/15/20 with limited warc bands. For 75/80 an inverted "V" antenna 135 ft long,apex at 45 ft fed with ladder line is used.
The Clubs I belong to are: The Redwood Empire DX Association (2003 President ), life member of the Northern California DX Club, Marin Amateur Radio Club and charter member of the Pampanito Amateur Radio Club; the Pampanito is a restored WW2 submarine docked at Fisherman's wharf in San Francisco and is open to the public seven days a week.